About Us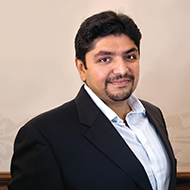 Sunil Nihal Duggal
Founder and CEO
Our passion for protecting peoples' lives led us to creating 24 Response, a product where we could provide security for everyone on a mass scale and not limited to the few who could afford private security, because it's expensive. With this aim in mind, we started our journey in 2013 so as provide a personal safety guardian to all, and see more and more people safe in a country which is experiencing high crime rate. All this made affordable, convenient with a simple touch on the app, accessible anywhere in India, available round the clock. So before the introduction of 24 Response, you had the government services, now we have got you an additional personalized layer, backed by 24 Secure, a leader in the security domain in India.
The founder of 24 Response, Mr. Sunil Nihal Duggal is a social entrepreneur, globalist with a forward looking approach to technology, an avid writer and a veteran in the field of security, who also has founded 24 Secure Group, one of India's leading names in the security domain. Playing the role of a responsible security provider PAN India for more than 2 decades he made it a mantra of his life to make sure the world around him becomes safer.
At 24 Response, the safety of a human life is paramount and is as important as the existence of our organization and belief. The drive and resourcefulness of the founder and the focus, diligence of the passionate and hard-working team has helped us to successfully touch 1 lac lives and have a service network of 85000+ partners PAN India. We are present on all platforms like iOS and Android and have scaled the app from a basic safety app to adding a unique feature, wherein we engage our users and keep them updated about the safety tips/real time emergency situations like traffic advisory/jams/diversions/processions/fire breakouts etc. that can help them plan and preempt their movement.
Our team is equally passionate, driven and is sensitive to the needs of people specially in situations where they need to feel safe. We have a diligent process to recruit our response team, starting from hiring them thru references with guidelines on education, verifying background to their induction, training and continuous monitoring of their behaviors and skill sets. We are a young, dynamic and rapidly expanding organization having some top executives in the key management positions along with our technology team of front/back end developers, designers, UI/UX experts, and R&D team. With a positive & energetic work environment, we provide ample opportunity for growth and recognize and reward talent.
We are up and working 24 hours a day to provide a safer life to all our users and to the community as a whole and that is what drives and motivates us- Safety first always, be safe, be secure, be with 24 Response!